Keep up with the latest trends happening in the international schools market and grow your network by attending one of our events.
Stay in touch with ISC Research. Meet our consultants at one of the many international conferences that we attend, or join one of our own events to find out more about the international schools market.
Event date - October 5, 2022
Join Nalini Cook, Head of Global Research, at Outstanding Schools Middle East Conference, 5th - 6th October 2022. Find out more
The Innovation and Creativity category for the 2023 International School Awards attracted some outstanding applications from international schools in a range of contexts. These embraced green, STEAM, wellbeing, and outdoor learning initiatives. Read more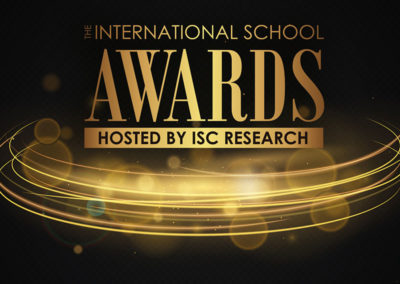 The shortlisted schools have been announced for the International School Awards 2023 hosted by ISC Research. Read more
If you had a granular view of the international schools market, how could it support you with your international school growth strategy, development planning, or admissions? Our most recent white paper highlights key factors and trends to be aware of. Read more
Sign up to our newsletter
Receive Heads Up, our monthly selection of essential news to keep you informed of what is happening in the international schools market. Heads Up episodes are also available on our YouTube videos and as podcasts.
Read our full data privacy to understand how we use your details.
Services tailored to your needs
For Schools
Whether you wish to grow your community, develop your peer network, keep informed of best teaching and learning practice, or refine your development strategy, we will adapt our data subscription services and market intelligence reports to your needs.
For Education Suppliers
Develop your marketing and business development strategy with reliable and trusted market data and intelligence to inform your segmentation, lead generation, content marketing, community and relationship building. 
For Educational Investors
Overcome the challenges faced in your search for a school partner. We will support you through every step of your selection process, providing you with historic and current market data and intelligence, as well as expert advice.
For Higher Education
Enhance your market knowledge to build strong relationships with international schools. Identify influential organisations and contacts to recruit good fit international students, in terms of language and independent learning skills and mobility aspirations.
We are dedicated and committed to supporting the broader international schools community by providing data, trends and intelligence. Since 1994, we have guided schools with their growth plans, informed investors on new school development, helped universities to engage with international schools, and advised education suppliers that are supporting the market.